Support middle managers to meet performance targets by giving them the confidence, awareness and skills to be effective managers and build high performing teams.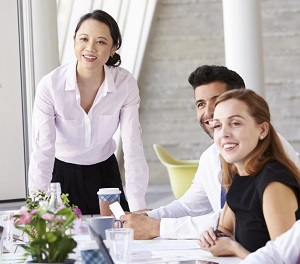 As individuals progress through their career into management, there is a shift from being appraised on technical skills and individual targets to developing people skills and meeting broader business targets through others. This is often with little or no support.
An effective manager is no longer responsible simply for his/her own tasks, but is now responsible for developing their team and ensuring business targets set by senior management are met.
They now need to balance the needs of people above and below them within the organisation and may not have developed the understanding, skills and confidence to meet this challenge.
At the same time, some managers will be looking towards the next stage in their career and considering their move to a Director level position.
They will be thinking about the skills and experience they need to be able to take that next step and for those people we have developed a guide to what it means to be a Director.
Huntcliff Management Development
Our management programmes are designed to bridge the gap between Leadership Development and Executive Coaching (usually reserved for senior management and leaders) and Technical Skill training and Performance Coaching at an individual level.
We aim to build the confidence of middle managers and help them to navigate the shift of emphasis from technical skills to people skills, to build effective performing teams and meet their targets.
Manager as Coach
Get People To Do What You Want
Delegating For Great Performance
Give and Receive Feedback That Sticks
Understand and Be Understood
Develop a high performing team
Increase Your Self Confidence
Become Super Resilient
Develop Your Personal Brand/Profile
Know Your Strengths
How And When To Be Brave
Smash Your Action List Without Stress
One to One Coaching  enables individuals to explore issues that are important for them in their day to day work and to develop the skills and attributes that will enable them to be more effective in their role.
Please contact us to discuss how we can help build effective management skills for you or your business
email nigel@huntcliff.org.uk or call 07504 826446